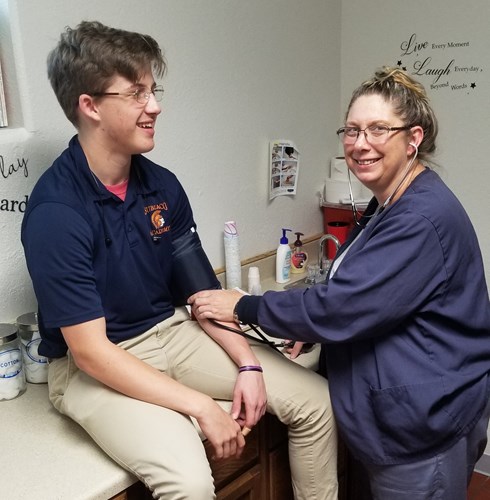 The healthcare of Subiaco Academy students is of paramount importance. Our staff includes a full-time Registered Nurse, Mrs. Barbara Wilhelm, who is experienced in caring for students within a residential environment. Mrs. Wilhelm attends to the medical needs of all students which includes handling medical insurance related matters. If needed, we have the additional assistance of the trained personnel, staff, and facilities of the Subiaco Abbey Health Center.
The Academy enjoys a collaborative relationship with the various hospitals and clinics in the area. The closest facilities include North Logan County Hospital and Cooper Clinic, both located in Paris, AR, which is five miles from the campus.
In addition to providing and managing the hands-on medical care of each student, Mrs. Wilhelm handles the assessment, intervention, and appropriate documentation for protecting the students' health. She facilitates other health-related needs such as dental/orthodontic care and referrals for specialty appointments. If you have any questions about student healthcare, you can email Barbara Wilhelm at bwilhelm@subi.org.